COPOCO Card Guard
We would like to notify our members that we will be transitioning from CardValet to our own branded CardValet app, COPOCO Card Guard. This app will have the same features you love from CardValet but integrated into our COPOCO Mobile App as the "My Cards' option.
When you click on the "My Cards" option, it will prompt you to download the COPOCO Card Guard App. Your login credentials will be the same as your COPOCO Mobile App. Once you are set up on COPOCO Card Guard, you may uninstall the CardValet app.
We want to emphasize that COPOCO Card Guard is a safe platform affiliated with COPOCO Community Credit Union.
CARDVALET
Protect your COPOCO Debit and Credit Cards in your wallet using the phone in your pocket. CardValet enables the ability to receive transaction alerts and to actively manage your Debit and / or Credit Card usage by defining when, where, and how your cards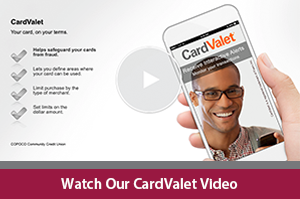 are used.
BENEFITS OF CARDVALET
FRAUD PROTECTION
Real-time alerts keep you informed when your cards are used.
Transaction controls allow your cards to work only in specific locations or geographic areas.
When your cards are "off", no withdrawals or purchases will be approved.
CONTROL SPENDING
Set spending limits for general use or specify thresholds by merchant types, such as gas, groceries or retail stores.
Establish controls by location and change parameters via your mobile device.
REVIEW BALANCES and TRANSACTIONS
Monitor your finances anytime, anywhere by using the CARDVALET App to check your account balances or to review recent card transactions.
PLAY IT SAFE
Payment cards offer both convenience and risk. You can make purchases easily, but if your cards fall into the wrong hands, your accounts are vulnerable. CARDVALET helps protect you against fraud and theft by receiving real-time alerts to ensure your cards are used only by you.
BUDGET CONSCIOUS
Take control of your finances by setting spending thresholds, specifying merchant types and turning your cards on and off. CARDVALET empowers you to control your debit and credit card spending in real time.
PARENTAL CONTROLS
Whether they're at the local mall or away at college, your kids spend money. With convenient features like threshold limits, merchant categories, locations and on/off controls, you decide where, when and how your children use their payment cards.