SEND MONEY
Bill Pay is available within Online Banking - no outside links. Set up is simple.
Login to your COPOCO@Home account and select the Services Tab and then the Bill Pay Tab. You can add a Bill Pay island to your Home Screen in Online Banking.
Easily add companies. Quick-Add feature lets you add billers by simply typing the company name and entering your account number.
Set up reminders. Use reminders to receive messages when payments are due.
Make recurring payments. Excellent for payments that don't change from month to month, like your car payment or mortgage.
Archive up to 84 months in activity. You can download your payment information to a comma-separated values (CSV) file. You can input the file into a number of different financial software applications.
Please Note: In order to ensure your payment arrives on time, payments that are mailed out in check form, will be printed and mailed up to 5 days in advance of your selected due date. This means there is a chance the check could clear your account up to 4 days prior to the date you selected.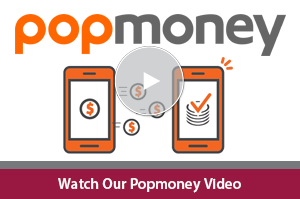 Popmoney allows you the freedom to pay others electronically only using the person's mobile number or email address. The recipient doesn't have to be a COPOCO CCU member to receive payments and payments are quick and easy via COPOCO Online Banking or via your COPOCO Mobile App!
The recipient of the payment will receive a text or email notifying them of the payment. The recipient will be sent to the Popmoney.com website to "pickup" the money that was sent by inputting his or her bank account information for deposit. No need to create a special account.
Features & Benefits
Set up recurring payments
Set up future dated payments
Receive automatic deposits ( after the first deposit is claimed)
Create custom email templates for gifting money
Write electronic notes for transactions to keep records
Import contacts from popular email services
To send money, simply login to online banking. Click "Payments Tab" and then select "Bill Payments" in the left navigation. Visit the Popmoney menu. Enter the recipient's email address, mobile phone number of bank account information, how much you'd like to send and when to send it and you're done! Recipients will be notified that the funds are there via a text message or email. It's that easy!
NOTE: A fee may be charged for each Popmoney transaction. Fees for the transaction are displayed below the amount field
---
Transfer Money with other Financial Institutions.
You can initiate a one-time transfer, or set up a repeating transfer based on a schedule that you define.
You can schedule transfers for dates up to a year in advance.
You can set up and manage reminders for transfers you want to make later.
NOTE: A transfer fee may apply. The amount may vary based on the direction of the transfer. Transfers coming in may be charged a different fee from transfers going to an account at another institution.