MOBILE DEPOSIT
It is a convenient and secure method for depositing your checks to your COPOCO Community Credit Union Checking account using your smartphone or tablet through our Mobile Banking App.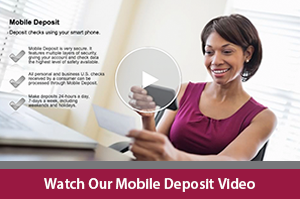 Q: How does MDC work?
A: Endorse your check correctly (refer to endorsement instructions below). Take a picture of your check(s) using your smartphone or tablet and submit it to our MDC system. MDC allows COPOCO CCU to capture the information from a check and clear it electronically through the ACH (Automated Clearing House) system.
Q: Is there a fee?
A: No, MDC is a free service. However, if a check is returned, fees/charges may apply. Please refer to COPOCO's Fee Schedule. Data rates may apply from your wireless carrier.
Q: Will I need a different username and password than the one I use for Home Banking?
A: No
Q: How do I enroll?
A: You will automatically be enrolled when you have successfully downloaded the COPOCO Mobile App.
Q: What types of checks can I deposit?
A: Acceptable checks:
Single-party domestic checks payable to the owner(s) of the COPOCO CCU account.
Unacceptable checks:
Savings Bonds

Foreign checks

Items payable to a third party (i.e. any entity or person not on the account)

Photocopies of checks

Items stamped "non-negotiable"

Incomplete checks

Stale-dated or post-dated checks

Checks that contain evidence of an alteration to the information on the check

Checks previously submitted for deposit

Checks deemed unacceptable after submitted
Q. How do I endorse my checks?
A: You must include the following: - Payee's signature(s) - "For Mobile Deposit Only at COPOCO CCU"

Q: Are there deposit limits?
A: Yes, $1,500 maximum amount of single check and $2,500 maximum aggregate deposit per 24 hour period.
Q: Do I need to include a deposit slip?
A: No, MDC generates an electronic record with each deposit.
Q: How do I deposit a check?
A: Refer to endorsement instructions above, then:
Select "Deposits".

Select Account to receive deposit.

Enter the amount.

Take a picture of the front and back of the endorsed check(s), ensuring all four corners of the check are displayed. For the best image results, place your check on a solid, dark background using adequate lighting.

Review and click "Submit".

Click on "Held for Review" to check on the status. Images transmitted after 4:00 pm EST will be posted on the following business day we are open.
Q: Do check holds apply?
A: Deposits may be subject to a hold. Funds deposited will be available in accordance with COPOCO Community Credit Union's Funds Availability Policy Disclosure found on the Disclosure page of our website: www.copoco.org under Funds Availability, Reg. CC Disclosure. Generally, checks received by COPOCO CCU before 4:00 p.m. Eastern Standard Time on a business day using Mobile Deposit Capture will ordinarily be credited with funds available within 24 – 48 hours. Checks deposited after 4:00 p.m. on a business day or on a Saturday, Sunday, or Credit Union observed holiday will ordinarily be processed on the next business day with funds available within 24 – 48 hours.
Q: How do I know if my deposit was accepted?
A: You should review the deposit history to confirm status of the deposit. No additional notice will be sent if for any reason the deposit was rejected.
Q: What should I do with my original check once my deposit is posted?
A: Clearly mark the front of your check with "MOBILE DEPOSIT" INCLUDING THE DATE. This will prevent you from attempting to re-present the check in error. Securely store your original for 30 days, then you may shred it.