MOBILE DEPOSIT
It is a convenient and secure method for depositing your checks to your COPOCO Community Credit Union Checking account using your smartphone or tablet through our Mobile Banking App.
Q. How do I endorse my checks?
A: You must include the following: - Payee's signature(s) - "For Mobile Deposit Only at COPOCO CCU"

Q: How does MDC work?
A: With Mobile Deposit Capture, you can safely deposit checks using your mobile device from home, work, or anywhere else you have access to the Internet.
Download our free Mobile Banking app by searching COPOCO in your app store.
Open the COPOCO app.
Select the Mobile Deposit feature from the menu.
Enter the amount of the check.
Select the account you wish to deposit funds to.

Endorse the back of the check (refer to special endorsement instructions below), as it is made payable to and add " For Mobile Deposit Only to COPOCO CCU" below your signature.
Take a picture of the front & back of check.
Review and approve the images of the check.
Submit the image for deposit.
Q: Are there deposit limits?
A: Yes, $1,500 maximum amount of single check and $2,500 maximum aggregate deposit per 24 hour period.
Q: Do check holds apply?
A: Deposits may be subject to a hold. Funds deposited will be available in accordance with COPOCO Community Credit Union's Funds Availability Policy Disclosure found on the Disclosure page of our website: www.copoco.org under Funds Availability, Reg. CC Disclosure. Generally, checks received by COPOCO CCU before 4:00 p.m. Eastern Standard Time on a business day using Mobile Deposit Capture will ordinarily be credited with funds available within 24 – 48 hours. Checks deposited after 4:00 p.m. on a business day or on a Saturday, Sunday, or Credit Union observed holiday will ordinarily be processed on the next business day with funds available within 24 – 48 hours.
Q: How do I know if my deposit was accepted?
A: You should review the deposit history to confirm the status of the deposit. We will try an contact you if the mobile deposit is rejected. Please always make sure your contact information is up to date.
Q: What should I do with my original check once my deposit is posted?
A: Clearly mark the front of your check with "MOBILE DEPOSIT" INCLUDING THE DATE. This will prevent you from attempting to re-present the check in error. Securely store your original for 30 days, then you may shred it.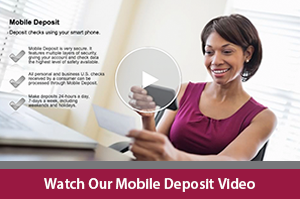 How do I enroll?
You will automatically be enrolled when you have successfully downloaded the COPOCO Mobile App.